In 1980 Nigel completed the first ever sea kayak circumnavigation of Great Britain together with Paul Caffyn, taking 65 days. Since then Nigel has carried out expeditions in Antarctica, Easter Island and around Cape Horn, inspiring countless fellow sea kayakers to explore the great coastlines of the world.
His passion for the sport led him to improve the design and safety of sea kayaks. And in 1993 he began manufacturing his own in Anglesey, under the name Nigel Dennis Kayaks (NDK). Nigel introduced the offset day hatch which enables the paddler to more easily access provisions while afloat. He also designed the keyhole cockpit, which allows for a faster and easier entry and exit compared to the original small ocean cockpit.
Now known as Sea Kayaking UK (SKUK), Nigel's kayaks are synonymous with UK sea kayak design. Renowned for their rough water handling, dependable stability and durable construction, they are favourites of paddlers worldwide.
So, how does Nigel prepare for a safe sea kayaking trip?
Plan – and have a plan B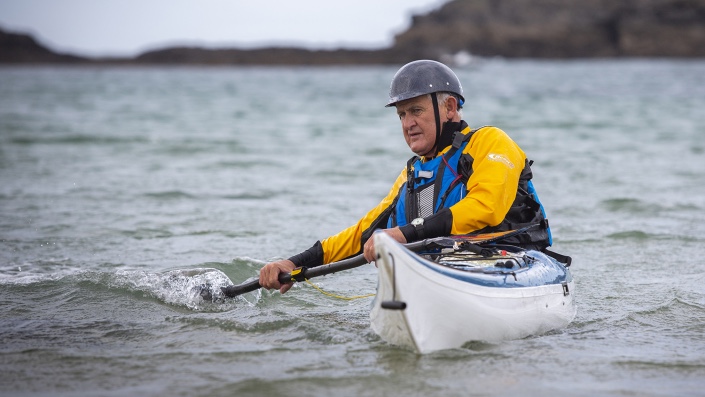 'Sea kayaking has grown in popularity and it's now common for advanced paddlers to undertake long open sea crossings or enjoy the adventure of playing in tidal waters on the many races and overfalls throughout the British Isle. While others simply enjoy a gentle coastal paddle.'
So deciding what to carry when planning any kind of kayaking trip depends on a number of factors: location, weather, aims and duration.
'Ask yourself these questions:'
How cold is the water?
What is the weather forecast?
How remote is the area?
How far from help will you be?
Will you have mobile or radio signal?
Do you need an alternative means of communication, such as a satellite phone or personal locator beacon (PLB)?
How often can you land?
Do you have a Plan B in case things go wrong?
Safety equipment needs careful consideration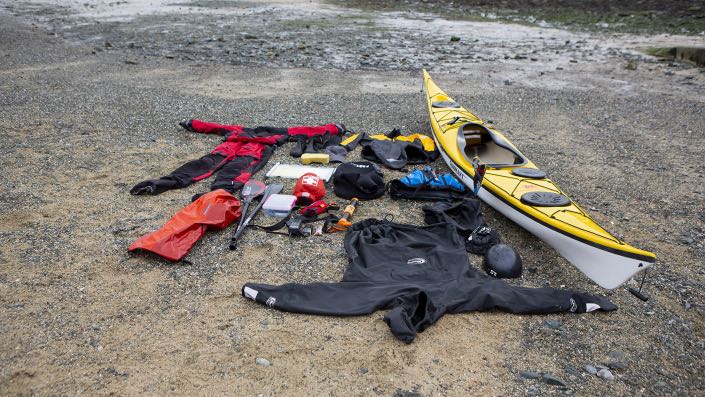 'A good quality buoyancy aid is a must. It should be appropriately sized with pockets for storing essential safety items and a higher buoyancy rating to allow for this extra weight.'
'A handheld submersible VHF radio with digital selective calling (DSC) carried in your buoyancy aid is the one piece of equipment that will be invaluable if you're separated from your kayak. Rescuers can pick up your radio signal and DSC can transmit your identity and location at the touch of a button. Some VHF/DSC radios have built-in GPS to track your longitude and latitude. A mobile phone in a waterproof case kept on you at all times is also very handy.'
'A PLB is worth investing in. This must be carried in your buoyancy aid and, when activated, will transmit a recognised distress signal and your position to the emergency services PLBs work off satellites so are ideal for areas without radio or phone signal.'
'A helmet is a must for surf landings and rock hopping. Store this in the day hatch. I also carry a storm cagoule with an integrated cockpit cover, designed to be worn over your buoyancy aid for protection in bad weather. It provides extra insulation and doubles as an emergency spray deck.'
'You need a tow line of at least 10m, with a quick-release buckle that can be worn around the waist, and is easy to operate quickly in rough conditions. When towing, the line should run out from the centre of your back. I use a braided floating 5mm rope with a good quality stainless steel carabiner that's easy to operate with cold hands.'
What to store in your buoyancy aid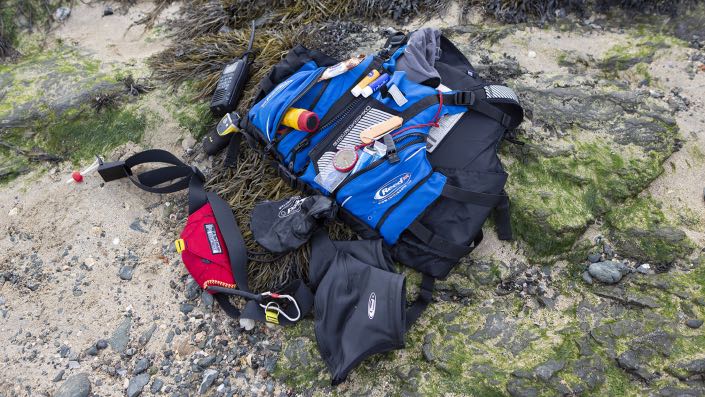 Handheld submersible VHF radio with DSC
Two day and night handheld distress flares
Personal locator beacon (PLB)
Whistle
Emergency hatch cover
Handheld compass
Denso tape patches for simple kayak repairs
Knife
Sunscreen and lip balm
Sunglasses
Cap or woolly hat, depending on the weather
Pogies in the winter (gloves that protect your hands from the cold)
What to stow in the day hatch
'Even if you're not planning to paddle in the dark, take a waterproof torch in case something goes wrong so you can see and be seen. Glow sticks or waterproof LED bike lights are handy.'
'Whether camping or not, take a means of lighting a fire to keep warm while waiting for help. And take a set of spare warm clothes in a dry bag that can be used by you or a fellow paddler.'
A simple first aid kit
'Include bandages and waterproof plasters. Zinc oxide tape's good for securing dressings. Cling film's good for camping burns. Carry Ibuprofen for a painkiller and anti-inflammatory, if you're able to take it.'
A kayak repair kit
'The kayak repair kit doesn't need to be excessive. Mine comprises gaffer tape, Denso or plumber's tape, epoxy putty and two-part epoxy glue. Denso tape sticks to wet fibreglass or plastic kayaks. I always carry two or three patches of Denso tape in my buoyancy aid too.'
What to carry on deck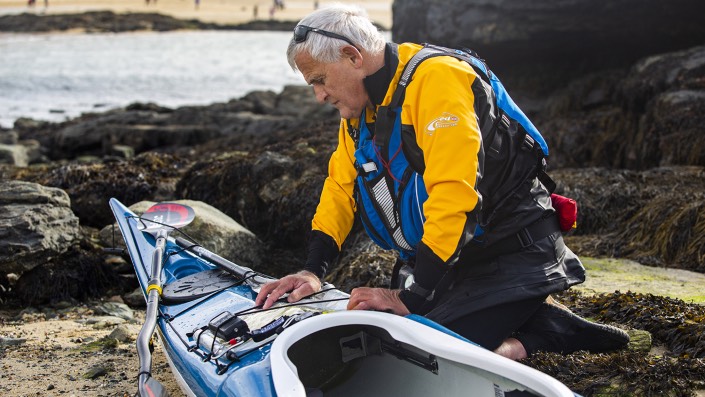 'On the kayak you need a pair of twopiece split paddles. These can be stored on the front or rear deck, provided they're accessible. I carry a split paddle that can be set at different feathers (angles) for the left or right-handed paddler.'
'A hand bilge pump is essential should your kayak become flooded. Some manufacturers put a storage recess on the deck. A kayak full of expedition equipment sits lower in the water so is more susceptible to taking on water when climbing back in it or when paddling through rough water.'
'A bailing sponge also helps to soak up water. I leave mine loose on the cockpit floor so that it absorbs any water that may get in.'
'I attach a chart/map in a waterproof case to the deck lines of the kayak, just in front of the cockpit. Some kayakers also fit a deck compass.'
'It's important to stay hydrated so keep a bottle of water within easy reach clipped onto the deck or cockpit.'

By Philip Clegg
Approaching two decades of working in the sea kayaking industry, Phil can be found on a daily basis coaching and paddling on the coastline of Anglesey. That's when he's not travelling the world expeditioning, coaching and testing kit.